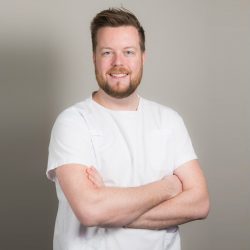 positions
: Dentist, Dr. Med. Dent
Expérience professionelle
2019 – present
Cabinet Mysmile à Carouge
2016 – 2019
Assistant en Division de Prothèse Fixe et Biomatériaux (Prof. Dr. I. Sailer)
2011 – 2016
Dr. med. dent. (100%) c/o Cabinet C. Traianou à Zofingen (AG)
Formation
2022
ITI Scholar University of Shanghai (China)
2021
Spécialiste Société suisse de médecine dentaire reconstructive (SSRD)
2016 – 2019
Programme de formation post-grade en Division de Prothèse Fixe et Biomatériaux de l'Université de Genève (Prof. Dr. I. Sailer)
2011
Doctorat en médecine dentaire à la clinique dentaire de l'Université de Berne (département prothétique)
2011
Diplôme fédéral et master of dental médecine (M Med Dent)
2009 – 2011
Etudes en médecine dentaire à l'Université de Berne diplôme en 2011
Spécialisé en prothèse fixe au sein de la Division de Prothèse Fixe et Biomatériaux à la Clinique Universitaire de Médecine Dentaire de l'Université de Genève.
2006 – 2008
Etudes en médecine à l'Université de Berne
Recherche
Int J Oral Maxillofac Implants. 2018 Nov/Dec;33(6):e151-e155
Explantation of an Osseointegrated Titanium Implant Using Laser-Induced Thermo-necrosis: A Case Report.
Worni A, Marchand L, Sailer I, Cornish D, Hicklin SP
Int J Prosthodont. 2015 Jan-Feb;28(1):22-9
Retrievability of implant-supported crowns when using three different cements: a controlled clinical trial.
Worni A, Gholami H, Marchand L, Katsoulis J, Mericske-Stern R, Enkling N.